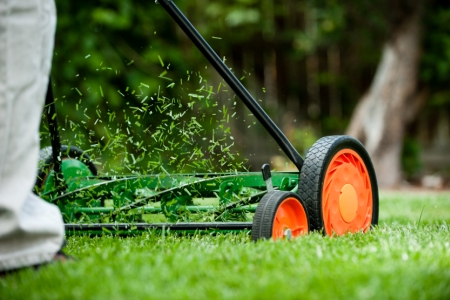 Did you know the average gas-powered lawn mower emits over four tons of carbon and other pollutants each year?
That's according to MowGreen, a carbon neutral company focused on sustainable lawn care. That four tons of carbon, MowGreen founder Dan Delventhal says, is equivalent to the emissions of a car driven 10,000 miles!
Delventhal recommends nixing the gas-guzzling machine in favor of a push mower, which not only lessens the user's carbon footprint, but has health benefits, as well. Every 1,000 acres mowed without gas-powered equipment offsets four million auto mile-equivalent emissions, Delventhal says.
Aside from the switch to a push mower, homeowners may also want to overhaul their lawn care program, particularly weed control.
Corn gluten, Delventhal explains, is effective for weed control, but must be managed with proper timing. It is reputed to be 90 percent effective for weed control when applied in spring, fall and spring again. It suppresses new weed growth in spring and fall by desiccation, shunting new seed germination, as well as through a protein-type reaction that inhibits the growth of broad-leaf weeds.
Corn gluten is also a nitrogen fertilizer, and, when combined with weed control application, can replace fertilizing entirely, says Delventhal.
Use certified non-GMO, organic corn gluten, if available. Delventhal's own corn gluten costs $75 for a 50-pound bag, which covers about 2,500 square feet. The price comes down as the quantity increases.
Want to learn more? Visit MowGreen.us for tips.
Published with permission from RISMedia.